Jeff Bitton, after encountering challenges in marketing his acquired Texas-based cleaning and restoration business, recognized the limitations of traditional online advertising platforms like Google, Yelp, and Angie's List. Despite substantial investments, the return on investment was not optimal.
"We were spending an average of $84 to acquire a $200 customer," revealed Bitton. Frustrated by the lack of effectiveness and the inability to compete with larger corporations, he reflected on his past success in door-to-door sales, recognizing the power of personal connections in fostering trust and loyalty.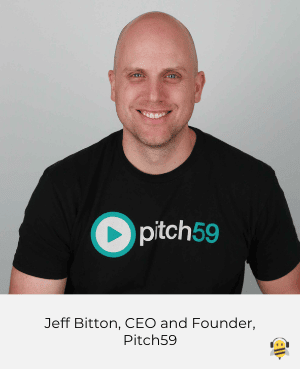 Drawing inspiration from his door-to-door sales experiences, Bitton conceived the idea for Pitch59 during a trip from Orem to St. George in 2018. This innovative platform aimed to bridge the gap between traditional networking and the digital sphere, leveraging the power of video-based pitches to create authentic connections between businesses, individuals, and customers.
Pitch59, launched as a video-based networking platform and directory, provides users with the opportunity to present themselves, their services, or their causes within a concise 59-second pitch video. Recognizing the need for authenticity and personal connections, Bitton emphasizes the platform's capacity to humanize interactions, fostering trust and credibility that conventional online advertising struggles to achieve.
The platform offers four distinct types of PitchCards, including Company, Individual, Job, and Nonprofit cards, essentially functioning as live business cards for users. With a focus on professionalism and high-quality content, Pitch59 offers users a range of tools to create compelling pitch videos, including talking prompts, a teleprompter with auto-scroll, and expert tips for a polished presentation.
Users can opt for various methods to create their pitch videos, including recording directly on the platform, scheduling a professional videographer, or engaging in a live interview session with a Pitch59 team member via Zoom. The emphasis on quality production ensures that pitch videos resonate effectively with potential clients and employers.
Notably, the platform's intuitive design allows users to organize and share PitchCards seamlessly. Users can create custom pockets to categorize and store different types of PitchCards, facilitating easy access and efficient networking. Additionally, the platform's built-in sharing capabilities enable users to share their PitchCards effortlessly via email, text, or various social media platforms, streamlining the networking process.
The versatility of Pitch59 extends to its utility for students and professionals seeking job opportunities. The platform's Resume PitchCards enable individuals to present their skills and experiences effectively, offering a comprehensive tool for job seekers to differentiate themselves in a competitive job market.
Moreover, Bitton's vision for Pitch59 transcends individual usage, as the platform cultivates partnerships with renowned universities such as BYU, UVU, and USC, among others, to encourage students to leverage Pitch59 as a powerful networking tool. The integration of Pitch59 into university curricula underscores its potential as a comprehensive networking resource for students and professionals alike.
In terms of pricing, Pitch59 adopts a straightforward model, offering free Resume PitchCards for job seekers and charging $15 per month per card for business-related cards. This transparent pricing strategy ensures accessibility and affordability for users across various industries and professions.
With a rapidly growing user base comprising more than 500 companies and individuals with business PitchCards and over 200 job PitchCards, Pitch59 has demonstrated its capacity to meet the evolving networking needs of the modern business landscape. Supported by a diverse team of nine employees operating across multiple states, Pitch59 continues to expand its reach and impact, with ambitions to secure significant funding through angel and seed rounds in the near future.
As Pitch59 continues to redefine the dynamics of business networking through its innovative video-based platform, Jeff Bitton's visionary approach stands poised to revolutionize the way businesses and individuals connect and thrive in an increasingly digital world.